Where the Heart meets the Soul!
Serenity Salon & Spa in Dover, NH offers the very best in personal care, beauty and comfort. Our Salon may be new, but our experienced staff are some of the best on the seacoast.

We'll keep it casual when you visit, and make it a fun but relaxed experience for you. Don't worry about knowing exactly what you want. We are glad to help you decide and make the process as easy and stress-free as possible.

We also offer many conveniences and amenities including ample parking. Free Consultations are always available. Our goal is to make your time with us a beautiful experience.
Schedule now for a complimentary consultation at Serenity Salon with Jennifer Gillies, Nurse Practitioner. $13 per unit of Botox!!! You and your friends could look younger in no time! ALSO ON MAY 5TH - PSYCHIC READINGS Does the Spirit World have a message for you?? Call to book your appointment with Kimberly Moore, Psychic Medium. $55 per 1/2 hour reading. Call Serenity at 603-343-5437 to schedule!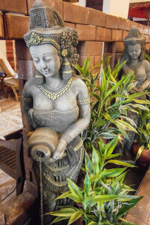 Have you ever thought about trying meditation but weren't sure where to begin? Maybe you were worried you wouldn't be able to "stop thinking" or maybe you're looking for a good way to relax. Serenity Salon and Spa's guided meditation sessions can help get you get started and will offer a calm and relaxing place to meditate. Each session will explore a different type of meditation and will end with a guided meditation led by our instructor. You will leave feeling calm and relaxed and in a crazy, hectic world who wouldn't want that! Sessions will run in a 6-week series. You have the option to attend individual sessions for $10 a class or get all 6 sessions for $50. Sessions be offered on Sundays at 10:00 – 11:00 am and Monday and Wednesday at 6:00 - 7:00 pm beginning December 4th.